Klean Kanteen
Engaging consumers with mission-based messaging, sustainability content, and education
Klean Kanteen has been creating innovative, re-usable solutions to single use products since 2004, starting with the first-ever stainless steel, BPA-free water bottle. Klean Kanteen is a certified B Corporation, committed to bringing benefit to the people and planet, while on a mission to keep single-use waste from trashing the world.
The Challenge
Klean Kanteen was doing amazing work to operate a sustainable, ethical company while delivering the highest quality products, but that information wasn't shared outside the company in a way that inspired consumers and built a stronger connection with them.

Why It Matters
Many companies say that their content highlighting mission, impact, or brand-activism doesn't perform as well as other types of content. But truly sustainable brands don't have "sustainability" content. Good strategies and planning make it easy to seamlessly weave those conversations and stories into your overall communication so that your consumers are engaged, excited and on board.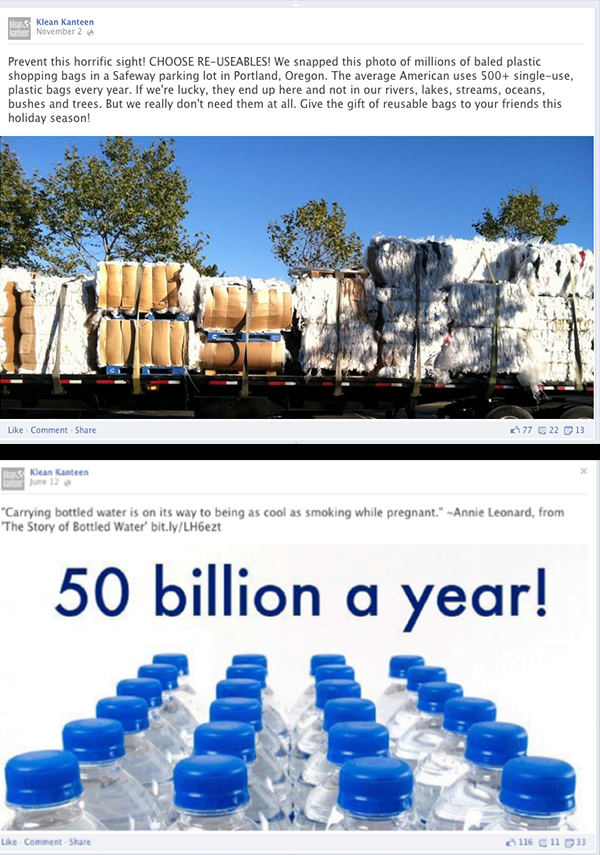 The Goals:
To integrate information about Klean Kanteen's sustainability programs and operations into the overall content strategy and planning so that the information was communicated in a natural, unforced way; showing the company's commitment to positive impact, while simultaneously educating, inspiring and driving engagement, connection, and brand loyalty with consumers.
To develop and publish compelling content to drive conversations around sustainability and impact-oriented corporate activity and mission that would perform on-par with Klean's other high-performing content.
What We Did:
Current Shift worked with multiple departments within Klean Kanteen to identify, curate and create content, conversations and stories representing all facets of operations making a point to loop in voices from manufacturing, customer service, events, sales, and superusers and brand loyalists; in addition to the departments that are usually brought into these conversations — partnerships and sustainability.
Deliverables:
Annual social media plan and strategy (2011 & 2012)
Editorial content calendar
Quarterly social/digital reports (2009-2012)
Responsibly Made in China
When we created the very first Klean Kanteen, our goal was to promote healthy living and respect for the environment by giving people an affordable alternative to plastic bottles. From the get go, we shared some of the concerns our customers have expressed about manufacturing in China. However, after much time and research into manufacturing options, we determined the manufacture of Klean Kanteens in China would allow us to provide a handcrafted product of exceptional quality at a price point that would support broad accessibility and cultivate of mindful, re-usable habits.
Integrated content development and execution across digital channels including web, email, social media and digital advertising that engaged existing and new consumers in authentic and dynamic conversations around shared interests and values, building a framework of, trust and deep brand loyalty that translated into increased growth and sales across the board.
17% to 128% Quarterly Facebook community growth (July 2009- January, 2013)
21% to 336% Quarterly increase in engagement on social networks: (July 2009- January, 2013)
 3% to 57%Quarterly Increase in traffic from social networks to website (July 2009- January, 2013)
 23% to 65% Increase in amount of content on digital channels containing communications and messaging about Klean Kanteen's mission and impact focused operations and activities (year over year, 2009 to 2012):
Up to 73% higher Average Engagement on Newsletters with content that included messaging about Klean Kanteen's mission and impact focused operations and activities (compared to overall average)
 Up to 35% higher Average Engagement on social networks with content that included messaging about Klean Kanteen's mission and impact focused operations and activities (compared to overall average)