Klean Kanteen
Freedom From Single-use 4th of July Giveaway: Increasing awareness & encouraging people to reduce or eliminate single-use cups, dishware and utensils at their 4th of July BBQ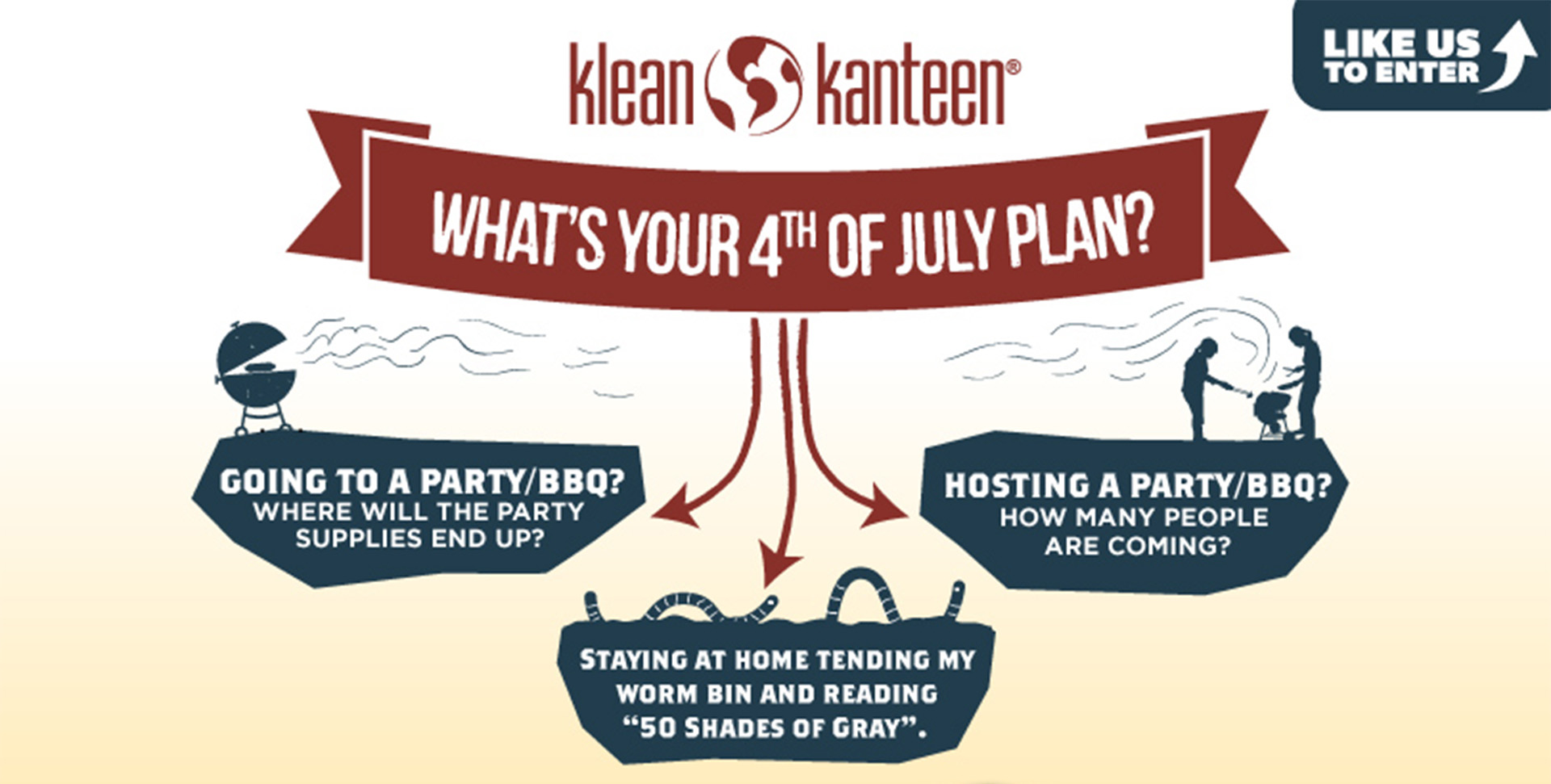 Klean Kanteen has been creating innovative, re-usable solutions to single-use products since 2004, starting with the first-ever stainless steel, BPA-free water bottle. Klean Kanteen is a certified B Corporation, committed to bringing benefit to the people and planet, while on a mission to keep single-use waste from trashing the world.
The Challenge
As part of Klean Kanteen's ongoing efforts to educate consumers about the environmental impact of single-use plastic, we wanted to find a fun, creative way to get our customers thinking about ways to reduce waste at outdoor parties such as BBQ's and picnics, focusing on the upcoming holiday, the 4th of July. We also wanted to encourage social sharing and personal stories.

Why It Matters
People don't like being told what to do or preached at.  That's why it's so important to develop messaging that's substantive, but also inclusive and inviting when you're trying get people to change a behavior or habit that negatively impacts the environment. Using humor and challenging people to come up with and share ideas creates a winning combination.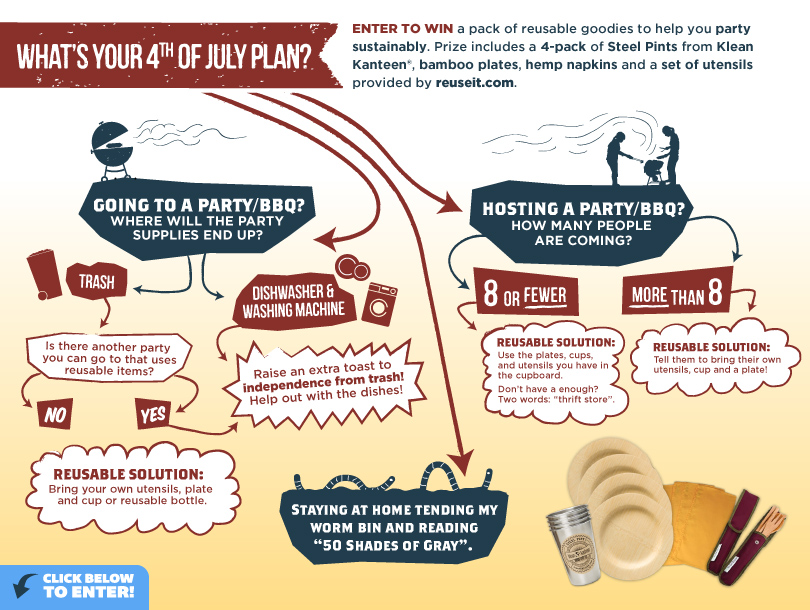 What We Did
As part of an ongoing series of social-sharing contests and giveaways, the focus of the "Freedom From Single-Use" Giveaway was a humorous flow chart which challenged giveaway entrants to think about the waste created at a 4th of July BBQ.  A series of answers that resulted in trash ended with a solution for ways to incorporate more reusable items; where solutions that focused on reusable items and waste reduction were given a high five (specifically a toast).  The infographic also offered ideas and solutions based on the size of the party to help people throwing larger events find creative ways to integrate reusable dishware, utensils, and cups; even if they didn't own enough for everyone coming to the party.
We partnered with ReUseit.com, a very large online retailer with significant reach through their newsletter, website and social media channels, whose consumers very closely matched the target audience we wanted to reach. Together Klean Kanteen and ReUseit promoted the giveaway through our digital channels.
One particularly fun aspect of this contest was that the entry form included a required field, "What's Your Party Plan?", which gave entrants the opportunity to share their own creative solutions to reducing single-use trash and waste. We then selected and used their answers to form a series of "Tips" which we rolled out over the summer.
Stories & Tips from Our Customers
Some Shared Their Waste Reduction Methods
"We're grilling for the 4th, and we always use our nice plates! Cloth napkins too!"
"I'm hanging out with friends, and bringing my Stainless Pint!!"
"Creating Lucid, a waste-free temporary village!"
"I switched from plastics to bamboo for outdoor entertaining so I'll be using those."
"We're celebrating my daughter's 8th birthday with a zero waste birthday party: reusable plates, cups and napkins and no balloons. Plus our Klean Kanteen water bottles — We LOVE them!!"
"I'll be slipping into a neighborhood party and replacing the single-use trash with Klean Kanteen and ReUseit magic! True vigilante justice! [insert self-righteous stance]. ;]"
"Going to a BBQ, taking my own plate, Klean Kanteen water bottle, and utensils!"
"I'm throwing a BBQ and asking my guests to bring their own! Whoohoo!!"
"We're throwing a party and only using real utensils, plates and cups, even using cloth napkins, all washable and reusable, hoping for zero trash or only recycables by shopping at farms markets and getting produce our own garden."
We learned a lot about their lives as well. 
"Stand-up paddleboarding while watching fireworks over the Mississippi river."
"Raw vegan, zero trash, lakeside shebang!"
"Using salad greens from my garden for a Fourth of July BBQ with family."
"Watching the fireworks from Driftwood Beach after a plastic-free barbeque and requisite yard games with my fellow sea turtle hospital interns! We love Klean Kantean!"
"Close friends over to enjoy homemade spaghetti bolognese with salad picked from the garden, on our own dishes and kids playing in the sandbox. = )"
"Filling up my Klean Kanteens with refreshing beverages to celebrate the 4th under the Quincy stars at the High Sierra Music Festival!"
More than 1,200 entries in 5 days.
More than 1,000 personal stories and tips shared through the entry form.
375+ additional stories and tips shared via comments to social media posts.
More than 750 people said they were incorporating reusable items into their 4th of July party plan.
Successful cross promotion and collaboration with a high value partner (ReUseIt), which evolved into a long-term brand relationship resulting in multiple future collaborations.
723 new Facebook fans
704  new email subscribers (people who weren't already subscribed)